Investors for Paris Compliance is working with investors to hold publicly traded companies accountable for developing and implementing science-based, Paris aligned net zero commitments. Such commitments are the foundation of a credible and robust framework for companies to manage the opportunities and risks associated with the economic and political shifts associated with a 1.5°C future.
We filed a shareholder proposal related to Enbridge's net zero commitment because its current net zero plan is not consistent with the principles and framework of a Paris-aligned, science-based net zero commitment. For example, Enbridge currently has only weak intensity-based reduction targets, doesn't account for its Scope 3 emissions, and doesn't align its capital expenditures with net zero.

Adopting this framework is critical if Enbridge wishes to manage the risks and opportunities associated with the transition to a low-carbon economy that ensures a reliable chance of the world remaining within 1.5°C.
We aren't alone in finding that Enbridge has work to do in improving its net zero commitment. Since Enbridge released its net zero plan in late 2020, the CA100+ has twice evaluated the company's climate performance. The CA100+ is an impressive group of investors with major clout. It includes Blackrock, the world's largest asset manager, along with heavy hitters like State Street, UBS Group, and JP Morgan. In Canada it includes RBC Global Asset Management, Manulife Investment Management, and TD Asset Management.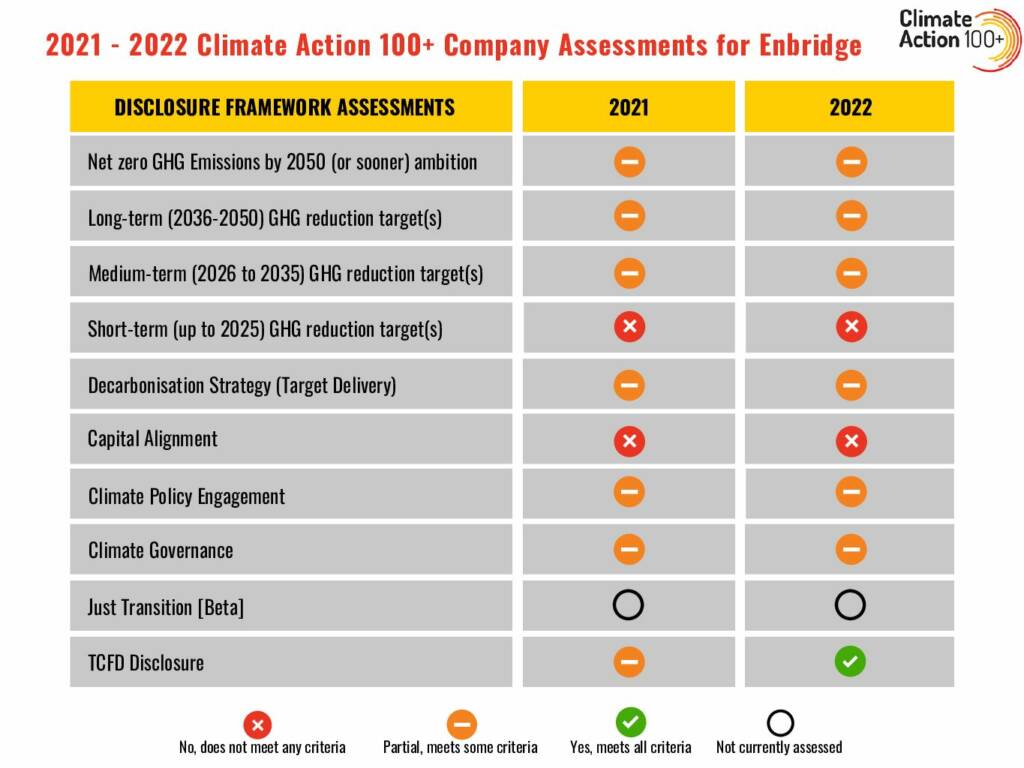 Enbridge has not scored well in either year and what's most dramatic, is that there is almost no improvement between 2021 and 2022 (aside from the improved TCFD disclosure). We know that the CA100+ is engaging Enbridge and will continue to push for the company to improve its performance.
We know that our shareholder resolution would dramatically help Enbridge improve their climate performance and most critically, increase the speed that an incumbent like Enbridge can pivot to low carbon investments that meet tomorrow's clean energy demand and reduce the company's overall emissions.