Global insurance industry association and the United Nations call for more research on this growing underwriting risk
This year we filed a shareholder resolution at Sun Life asking for disclosure regarding how its investments in fossil fuels impact the health of its current and future client base. Life & health insurers are facing underwriting risks from their investments in fossil fuels, not only because of the air pollution caused by fossil fuel combustion but also because of rising health claims due to climate-related extreme weather events.
The latter financial risk is becoming so significant that, as of last year, both the global insurance industry association – the Geneva Association – as well as the United Nations advise health insurers and re-insurers to begin to research and assess these risks.
Geneva Association
In 2022, the Geneva Association reported on the need for life & health re-insurance companies, in particular, to research and assess
the attributions and materiality of climate change to their underwriting exposures – including longevity, mortality and morbidity – over various time horizons.
The Association clarifies that these are risks faced by life & health insurers in addition to pre-existing transition risks presented by investments they may have in fossil fuels or carbon-intensive sectors.
Because climate-related underwriting risks is an emerging area for life & health insurers, the Association provides guidance for insurers on how to approach the analysis. The report "offers a starting point for a framed qualitative process to explore physical and transition risks as well as their interaction on the liability side." The report also acknowledges the data challenges related to attributing life and health impacts from climate change, but that with all things climate-risk-related, these gaps should be addressed rather than viewed as a deterrent.
UNEP FI Principles for Sustainable Insurance
The United Nations also issued a report last year that provides guidance to life & health insurance companies in assessing the climate risk to their underwriting business from climate change. First, the report acknowledges the fact that this risk is emergent:
Compared to non-life insurance business, there has generally been less understanding of and discussion on key ESG issues for life & health insurance business. Over the years, much of the sustainability discussion has revolved around the role of the life & health insurance industry as institutional investors—which is certainly one of the industry's key contributions—but not necessarily about its core insurance business.
Similar to the Geneva Association, this risk is highlighted as related and in addition to the transition risk faced by life & health insurers from their investments in fossil fuels and carbon-intensive sectors.
Specifically, this report provides a "heat map" framework for life & health insurance companies to use in identifying the varying types and levels of climate risks to their core business model as a result of their investments in fossil fuels.
Our resolution with Sun Life
The fact that Sun Life is a major investor in fossil fuels and the largest investor in coal in Canada, with no real plan to reduce that exposure, is a business risk that needs to be openly assessed. The clear scale of this risk is outlined when visually comparing the size of Sun Life's investments in coal to its peers, Manulife and AXA.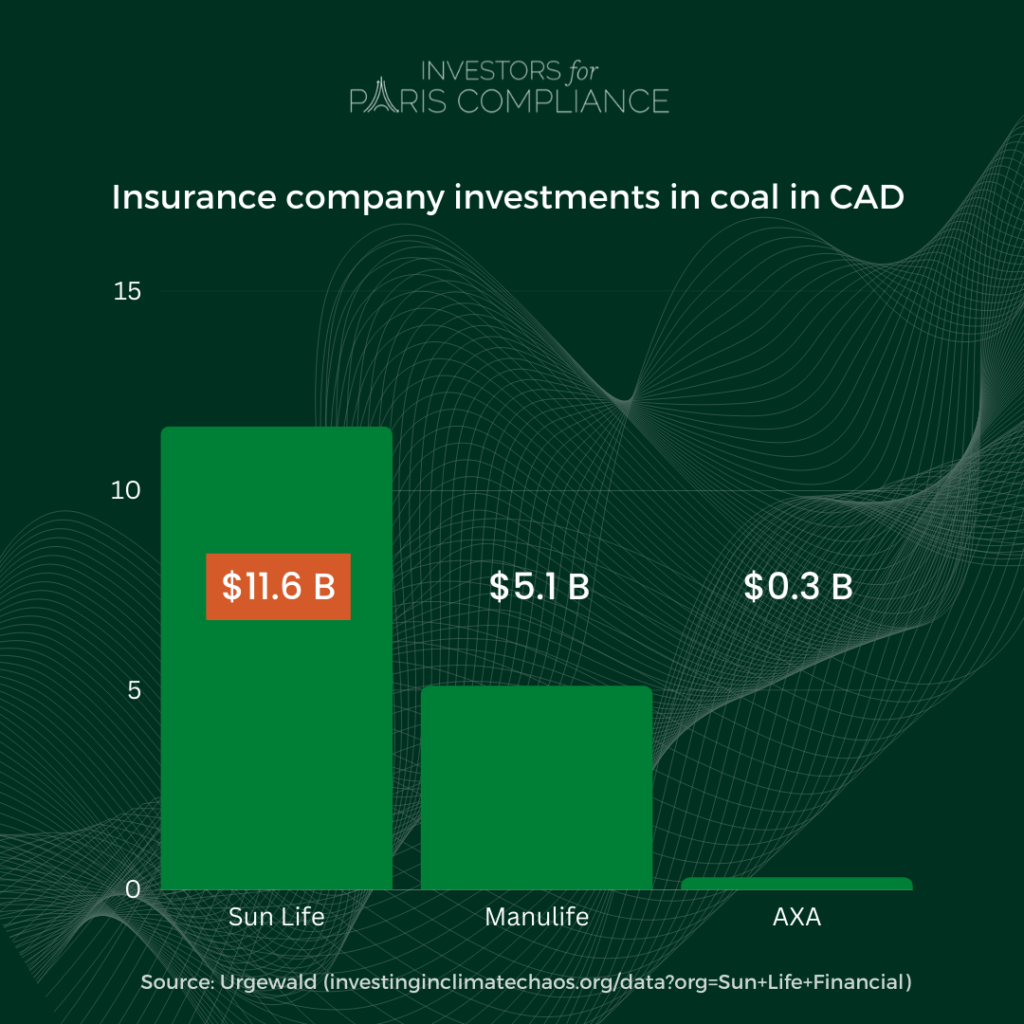 Insurers profit based on a carefully balanced long-term projection of the difference between their insurance premiums and the payout they will have to make to customer health claims. The life and health impacts fossil fuel investments are having and are projected to have on life & health insurance clients is something shareholders have a right to know.
This is why Investor for Paris Compliance is calling on Sun Life to begin assessing and disclosing the impacts of its investments in fossil fuels on its life & health insurance business. Our expectation is that by acknowledging and dealing with this financial risk, Sun Life will also increase the ambition of its climate plan.
Read more about our resolution filed with Sun Life here.